Listen to the fantastic sonorous stalactites
of the cavern of Borgio Verezzi and Toirano in Ligury (Italy) from the CD

SONOROUS CAVERNS




VOL. 1 - The sounds of the stalactites and stalagmites



Walter Maioli
MUSIC and ARCHAEOLOGY: PREHISTORY


Listen
---
Our music in digital format MP3 (320 kbps) or in FLAC
go to the store
To order send an email to:
cd@soundcenter.it

---
SONOROUS CAVERNS
In a short time it will be ready a new CD of the production soundcenter, containing the exceptional recordings taken place in decades of experimentations on the sounds that can be obtained striking the stalactites and the stalagmites of the caverns. From a research that Walter Maioli develops from thirty years on the origins of music and the employment of the natural materials to produce sounds, an extraordinary sonorous revelation: the white filiform stalactites called the bells of the angels and situated in the cave of Borgio Verezzi in Ligury (north Italy ). Sounds until now never heared from the extraordinary powers, that sets in motion in whoever listens to them the thinnest inner vibrations.
Natural sounds and music realized only with the stones of the caves, without other sonorous instruments.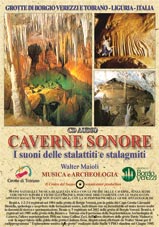 SONOROUS CAVERNS


VOL. 1 - The sounds of the stalactites and stalagmites
Walter Maioli
MUSIC and ARCHAEOLOGY: PREHISTORY
Buy the Music CD CAVERNE SONORE di Walter Maioli in mp3
THE SONOROUS CAVERNS
Since the dawn of the humanity the cavern has meant the primordial abyss, the place of the unknown and the enchantment, of the supernatural emanation, in the magnificence of its forms, shades, transparencies, colors and sounds. You are swallowed by the subsoil through the great vagina of mother earth to find yourself in her womb,this way, to be given birth again. This is the archetype of all the pilgrimages of the labyrinths and of the rites of spiritual rebirth.
The cavern is the principal sonorous symbol in which it's also the place where the most environmental acoustic effects can be found: therefore the cavern as source from which the universe springs, wide open mouth of the choristers gods, center of the deads and of sounds able to enchant. The temples and the churches, in their sonorous structure, are an imitation of it.


MUSIC AND ARCHAEOLOGY: PREHISTORY
From 1986 with my daughter Luce we have begun to experiment the sounds in the spectacular caves of Toirano ( Italy ). In this ligurian town in the beginning of the 90's we have lived for three years. A total immersion in the prehistory.
Acoustic analysis, sonorous recordings for Cd and radio programs, concerts employing the first musical instruments, among which the stalactites and stalagmites.

There are traces in the Upper Paleolhitic of repeated percussions upon stalactites and stalagmites. Not all the stalactites and stalagmites sound if struck, but some reveal really extraordinary and unbelievable sounds, from the powerful low gongs until thin and crystalline sounds. We have ( exceptionally ) recorded also in the caves of Borgio Verezzi these fantastic sounds directly striking the stones with the hands or with special poles to not notch them, with the supervision of the speleologists guides.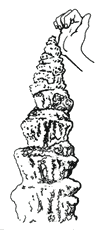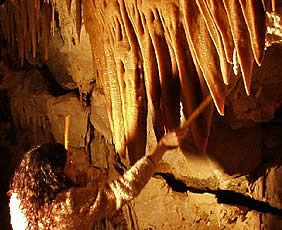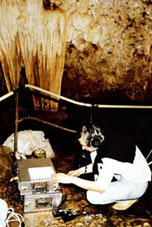 Walter Slosse, from the Dutch VPRO Radio, in 1986 at Toirano
while recording in preview with digital equipment the famous " Organ of Toirano"


For other informations on SONOROUS CAVERNS :
http://www.soundcenter.it/preistricerca.htm